Testing Finds That PFAS Chemicals Are Found in the Drinking Water of at Least 2 Million Michigan Residents
Per- and polyfluoroalkyl substances (PFAS) are a family of human-made chemicals that are found in a wide range of products used by consumers and industry. There are nearly 5,000 types of PFAS, some of which have been more widely used and studied than others. Many PFAS are resistant to grease, oil, water and heat. For this reason, beginning in the 1940's, PFAS have been used in a variety of applications including in stain- and water-resistant fabrics and carpeting, cleaning products, paints, and fire-fighting foams. In addition, certain PFAS are authorized by the FDA for limited use in cookware, food packaging and processing.
The widespread use of PFAS and their ability to remain intact in the environment means that over time PFAS levels from past and current uses can result in increasing levels of environmental contamination. Accumulation of certain PFAS has also been shown to occur in humans and animals, as found through blood tests. While the science surrounding potential health effects of PFAS is developing, current evidence suggests that the bioaccumulation of certain PFAS may cause serious health conditions.
– Source: U. S. Food & Drug Administration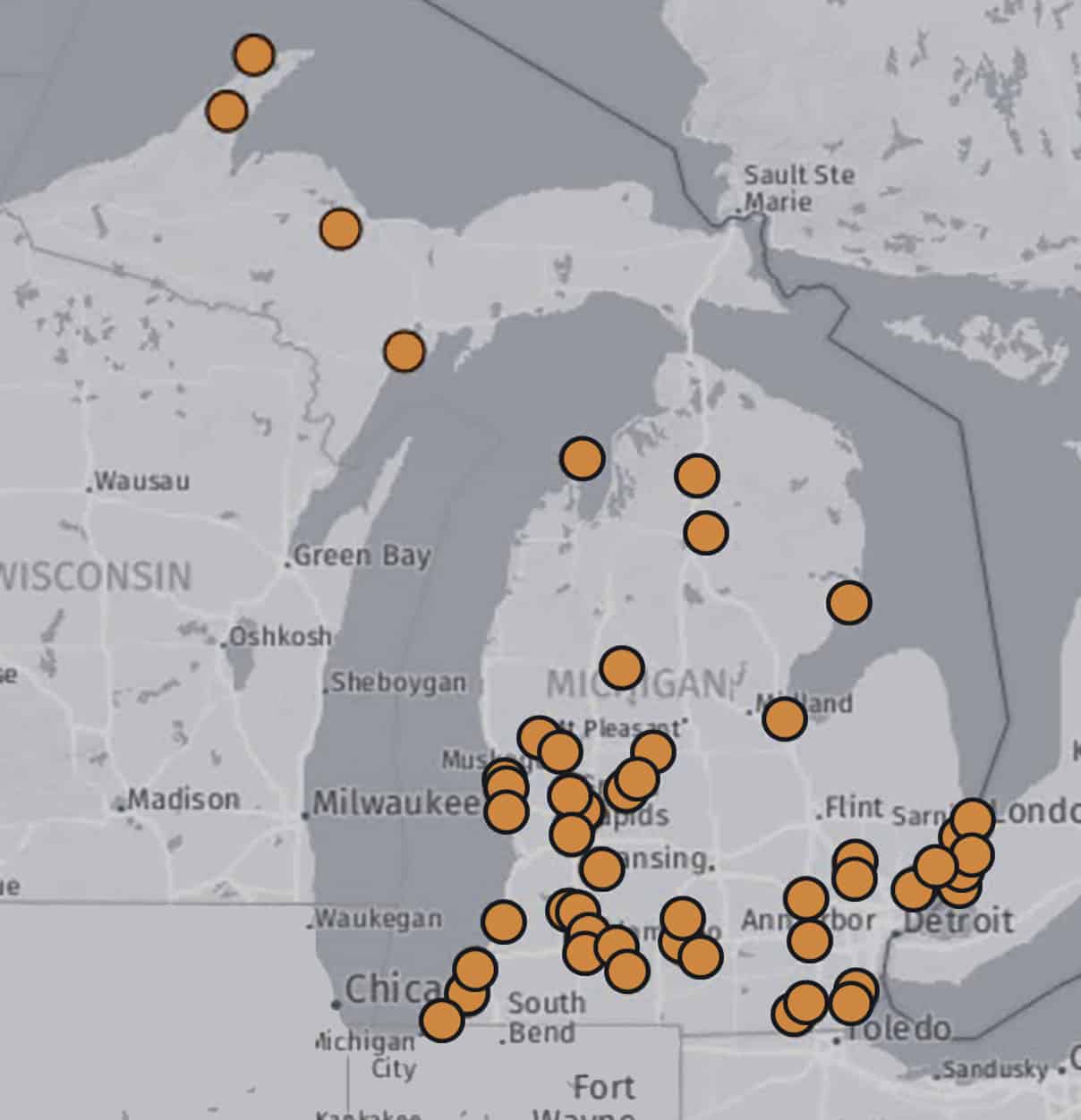 PFAS sites identified in Michigan.
Toxic "forever chemicals" found in drinking water throughout U.S.
The report found that 20 cities and regions nationwide — including Washington, D.C., Philadelphia, Miami and Louisville — contained high PFAS levels.
Read in USA TODAY: 
https://apple.news/AWa3IsFbDQWqJRexQR16jVQ
Think You're Affected? Call Us.

State of Michigan Sues 17 Companies Over PFAS Chemicals.
On January 14, 2020 the state of Michigan filed suit against 17 companies, including 3M and DuPont, accusing them of contaminating the state with Per- and polyfluoroalkyl substances (PFAS), or "forever chemicals" (because they are so slow to break down in the environment).
The suit was filed in Washtenaw County Circuit Court.
"Companies that are responsible for these contaminants must be held accountable," Gov. Gretchen Whitmer said. "Polluters must pay. It's time that these companies step up and take responsibility and address what has taken place."
Michigan Attorney General Dana Nessel decribed the lawsuit as "an important part of fighting PFAS contamination." She said the companies knew or should have known about the dangers of PFA substances to human and animal health, but failed to disclose what they knew. Instead, the companies "went to great lengths to promote the lie" that the chemicals were safe, she said. 
Read More
DuPont, 3M and other companies face numerous lawsuits around the country over PFAS contamination.
In Michigan, some of the most serious cases of PFAS contamination have been found around the former Wurtsmith Air Force Base in Oscoda, which used large volumes of firefighting foam containing PFAS; near the site of a former paper mill in Parchment, in Kalamazoo County, and near the site of a former shoe factory in Rockford, in Kent County. There also have been concerns about PFAS levels in treated drinking water in Ann Arbor, which draws most of its raw water from Barton Pond on the Huron River, which has had elevated PFAS levels.
Fanna Haile-Selassie, a 3M spokeswoman, said the company "acted responsibly in connection with products containing PFAS and will vigorously defend our record of environmental stewardship. To that end, we have placed thousands of documents in the public domain, including more than 150 published studies conducted by 3M and other researchers on potential environmental and health effects of PFAS."
Environmental groups praised Tuesday's action.
"We can't have a strong, vibrant economy when citizens are forced to drink polluted water," said Bob Allison, deputy director of the Michigan League of Conservation Voters.
In all, there are more than 70 PFAS sites in Michigan getting active attention from state officials, said Liesl Eichler Clark, director of the Department of Environment, Great Lakes and Energy.
The Free Press reported in December that Wolverine Worldwide, which operated a former Rockford shoe factory that for decades used PFAS compounds, causing widespread environmental contamination nearby, is nearing a $69.5-million settlement with the state of Michigan and Plainfield and Algoma townships.
Named as defendants in the suit are:
Minnesota Mining & Manufacturing Co, also known as 3M
DuPont, including DuPont de Nemours Inc., also known as "New DuPont"
The Chemours Co., a spinoff of DuPont, and its subsidiary, The Chemours Co. FC LLX
Corteva Inc., another DuPont spinoff
Dyneon LLC
Archroma entities
Arkema entities
AGC Chemicals Americas Inc.
Daikin Industries entities
Solvay Specialty Polymers, USA LLC
Asahi Kasei Plastics North America Inc.
State health officials no longer will be using federal health advisory guidelines for PFAS, which previously only targeted PFOS and PFOA at a combined 70-parts-per-trillion when found in drinking water.
The new health screening levels for drinking water in Michigan are:
PFOA: 9-ppt
PFOS: 8-ppt
PFNA: 9-ppt
PFHxS: 84-ppt
PFBS: 1,000-ppt
Read Less
Contact Us About Your Case
The criminal defense and personal injury attorneys at Abood Law are happy to provide initial consultations at no charge and are available to advise clients 365 days a year. Contact us today to see how Abood Law can help you.