Criminal Defense, Personal Injury, Family Law and Driving Offenses
We are trial lawyers. We go to court. That's what we do.
We are first and foremost trial attorneys. We do not shy away from cases because of their notoriety or public scrutiny. Nor do we choose the expedience of a settlement when we know our client is in the right. We stand beside them in court to win the day.
The Abood Law Firm welcomes new team members!
Diverse Areas of Practice to Suit Your Individual Needs
The Abood Law Firm works with clients in need of a wide variety of legal services. Our areas of practice include the following.
Our approach to the law is like cross-training.
Welcome to Abood Law. Our attorneys and support staff are experienced in defending our clients rights throughout the state of Michigan in a wide range of legal matters, including: Criminal Defense, OWI / DUI Law, Personal Injury Law, Divorce, Child Custody & Family Law. The guiding principles that are the boundaries for the firm include honesty, excellence, justice, empathy, ethics, and integrity. Great Lawyers who master the profession, can win cases with honesty and integrity. Great lawyers can be bound by ethics and continue to zealously advocate for our client's interest and point out when others, including the courts are failing to do.
Five Reasons To Hire Abood Law Firm:
1.The Abood Law Firm has represented clients since 1956. That's over 60 years experience!
2. As a client, you will get our full attention. After meticulous research, investigation, and analysis, we will build a defense for you based on compelling arguments, and we are experienced in defending clients in a wide range of criminal matters.
3. We know that every case is different, and we'll find the solution that works for you.
4. Our attorneys are always available to take your call and answer your questions.
5. We provide free initial consultations.
Why Choose Abood Law Firm?
The answer is simple. Our experience. Our integrity. Our success rate. Our reputation. Our dedication. Each of our attorneys is skilled in multiple areas of the law, improving their performance to achieve the best results for their clients. Since 1956, Abood Law Firm has represented clients throughout Southeast Michigan, providing legal services in Birmingham, West Bloomfield, Bloomfield Hills, Huntington Woods, Hickory Corners, Novi, Northville, Forest Hills,  Farmington Hills, Royal Oak, Beverly Hills, Auburn Hills, Rochester Hills, Berkley, Ferndale, Ann Arbor, Lansing, and Madison Heights, through our offices in Birmingham and East Lansing, Michigan.
"I just wanted to say thank you for making the decision to take my case.  I realize that nothing about my case is easy and I am just so grateful for all of the time and hard work everyone is doing there to help me through this super hard time in my life."  

"
I also want to express my sincere gratitude for Sherri.   She has been there to support me, guide me and listen to some of the hardest, saddest moments of my life.  She makes me feel like she understands me and the fear I'm facing. There are absolutely not enough words to explain how important she has become to me, how much I appreciate her. She is always there to help me and undoubtedly has a lot of patience for all the emails/calls/texts I send! She is truly amazing."
"Every single one of you are truly a blessing to my life and there is not a day that goes by where I don't think about you guys, and all the time and effort being poured into my case. You all have become so important to my life and the lives of my children. Thank you for supporting me and believing in me."  
"I just wanted to say thank you for making the decision to take my case.  I realize that nothing about my case is easy and I am just so grateful for all of the time and hard work everyone is doing there to help me through this super hard time in my life."  
"It's been a few weeks since my divorce finalization, and I wanted to say thank you for your help on my case. Going into this, I thought I was going to be ruined, have nothing to my name, and only see my kids every other weekend. It was the complete opposite. I really appreciate everyone, especially Kari and Alycia. I definitely wouldn't be in the place I am now if it weren't for you two. I'm happy I listened to you. I owe you ladies, and would be more than happy to work with you again, but let's hope I don't need to!  I would recommend your office for anything."
"I know I haven't been the easiest client, but you guys went above and beyond helping me heal. Lawyers don't generally do that. Andrew, I felt comfortable with you protecting my future. You are a phenomenal lawyer. In the beginning I didn't understand the legal process... thankfully,  it was explained to me. You guys have not only helped me heal, but now my daughter is a kid not worrying about adult things because of what you worked out."
"It's been wonderful working with the Abood Law Firm, always professional and prepared." 
The Abood Law firm and our attorneys have been featured in numerous newspaper and magazine articles.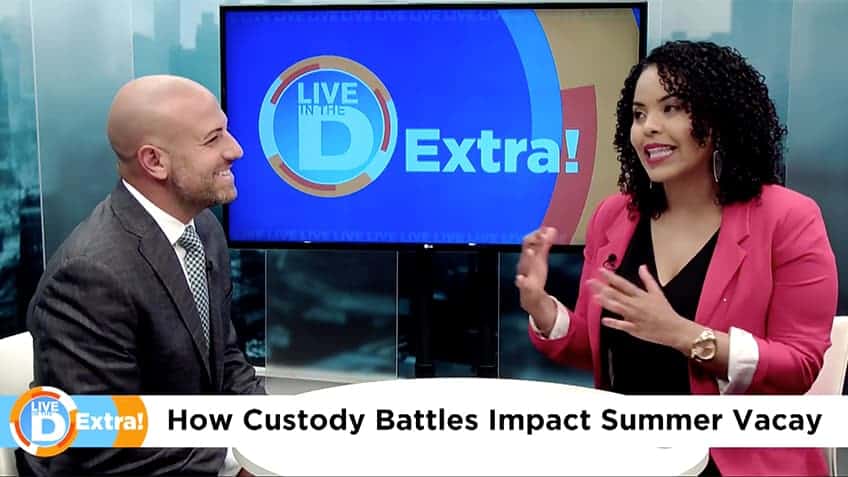 Watch on Facebook: Jeffrey Lance Abood talking about parental custody challenges during summer vacations on Live in the D.
Listen to Jeffrey Lance Abood talking with Greg Bowman on WWJ newsradio about co-parenting during COVID-19. 
Click on the button below to view and read them on our In The News page. 
Contact Us About Your Case
The attorneys at The Abood Law Firm are happy to provide initial consultations at no charge and are available to advise clients 365 days a year. Contact us today to see how Abood Law can help you.